5 Tips on Caring for Your Child Braces During Orthodontic Treatment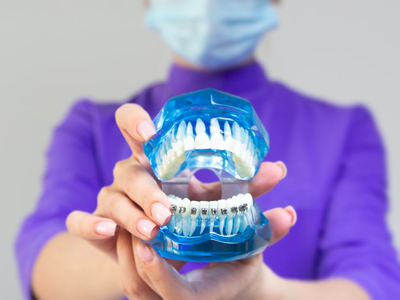 Orthodontics advises that children who face orthodontics issues can rely on braces at any age. Despite the age-flexibility, the most appropriate age for braces for kids will be between 10-14 years. Braces can improve our "orofacial" looks, and fix crowded or crooked teeth, jaw disorders, and bite issues such as over and underbites. You may have to deal with a lot of challenges while convincing your kids to maintain proper dental hygiene. In our previous blog, we have explained 5 types of dental braces treatment in El Paso for kids. Here are 5 tips for monitoring the oral health of your kids with dental braces.
5 Tips for Taking Care of Your Children During Their Orthodontics Treatment in El Paso:
Encourage brushing teeth with an appropriate toothbrush after every meal and before bed.
Brush the gums gently to stimulate the gums and take extra care of braces and gums. Discomfort can arise if food is caught in between gums and braces, often leading to cavities, swollen gum, and discomfort.
It is important to replace old brushes after a certain time. The Centers for Disease Prevention and Control (CDC) advises a healthy duration of 3 or 4 months to change one's toothbrush.
Make flossing a regular habit for your children. Flossing is recommended once a day along with a good mouthwash for extra dental care.
After the placement of dental braces, the teeth usually remain tender and very sensitive for 3-10 days. During this period you may give your kids soft foods like soups, eggs, yogurt, etc. It is healthier for the teeth as well as the braces to stay away from hard foods such as nuts, popcorn, brittle peanuts, whole fruits, and veggies, hard pretzels and even ice. Bubble gum, cake or cookies, sticky foods like gummy candies, sugary foods, and beverages must also be avoided during the period.
Common Orthodontic Emergencies in El Paso:
Common orthodontic emergencies include occasional breaking of braces, discomfort in the mouth and while chewing, and poking of the braces on cheeks or lips. If the discomfort extends, one must take the kid to the kid's dentist in El Paso.
Using oral irrigations like Water Pik would be an excellent routine for your child's oral hygiene regime. It removes tough food debris efficiently.
Braces can usually take longer to be effective. Adult braces need a lot of time to function properly and are costlier than children's braces.
Conclusion:
If you are actively looking for a reliable Kid's Dentist for orthodontics in El Paso and require urgent dental care for your little ones, you may approach Dr. Jim Bowden D.D.S and his team. Dr. Jim Bowden D.D.S has commendable experience and expertise in both orthodontics as well as pediatric dentistry. Visit our website to know more about the service and packages or call us at 915-600-6053 to book an emergency consultation.