Why Is a Night Time Bottle Bad for My Child's Teeth?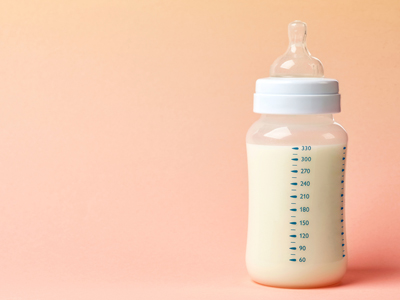 Why Is a Night Time Bottle Bad for My Child's Teeth?
When it's time for sleep, your child may want to cuddle with a bedtime bottle in hand. She/he sucks hard as their eyes start to close, they soon fall asleep. But, if you try to remove the bottle, those closed eyes open with an accusing expression on their face as they suck the bottle back heartily.
One of the most common questions we get from parents is if a night time bottle is bad for their child's teeth? Does it cause baby bottle tooth decay? Here, we will be discussing why a bedtime bottle isn't a good idea.
What is Baby Bottle Tooth Decay?
Baby bottle tooth decay is caused by the frequent and long-term exposure of a child's teeth to liquids containing sugars. Usually, these liquids are milk that pool around the infant's teeth and gums feeding the bacteria that cause plaque and results in tooth decay.
Why a Night Time Bottle Isn't a Good Idea
Usually, babies are completely off the bottle by the time they're a year old. According to the American Academy of Pediatrics, children in between the age of six and nine months bedtime bottles move from being a necessity to a comfort. Here are five points on why a night time bottle isn't a good idea.
The longer you offer a bottle at bedtime, the more your child becomes attached to it, making it difficult to fall asleep without it.


Once your baby's teeth start to come through, falling asleep with a bottle can lead to tooth decay.


The sugar in milk sitting on the teeth all night turn into acids, which can result in an erosion of the enamel.


Kids who have bottles before bedtime are more prone to night walking and will often ask for another bottle before they can drift off again.


Bedtime bottles can contribute extra calories that lead to excess weight gain.
If you've any questions about your child's teeth, be sure to ask our Dentist, Dr. Bowden, by calling us at (915) 585-6373.