How To Take Care Of Your Braces?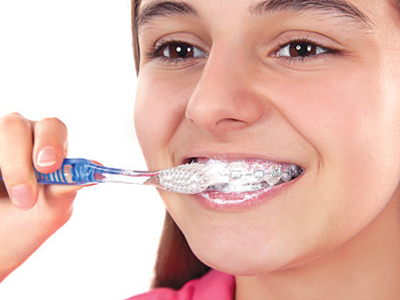 Caring For Braces
Why is caring for the braces are important?
Caring for your braces not only speeds up the treatment time but also insures that your teeth stay healthy as well. Without proper oral hygiene, many problems such as staining of the teeth, cavity formation and gum disease can result.
Is caring for your braces difficult?
No, it is not at all difficult. You can easily manage along with your everyday activities. Just follow the below mentioned steps:
Brushing:

Brushing teeth is important for many reasons to keep teeth and gum healthy. But, it becomes extra important for those who are wearing braces. Food particles and plaque can get easily trapped around the brackets. Brushing after every meal including snacks, will help in removing these food particles.

Flossing:

Flossing must be an everyday practice to clean in between the teeth- which cannot be reached by the toothbrush

The food you choose:

Avoid the foods that are chewy, sticky, crunchy or hard. Avoid sugary food and drinks as the space around the bracket is a shelter for bacteria to grow and to harm the teeth.

If you have the habit of biting finger nails, chewing on pencils, then curb those habits as quickly as possible. Otherwise, it can lead to breakage of your braces.

Follow your orthodontist's instructions:

Follow the instructions for caring for your braces given to you by Dr. Bowden and his Team in order to avoid the problems that can result during your time in braces.