How safe is your child's dental visits during the Covid-19 pandemic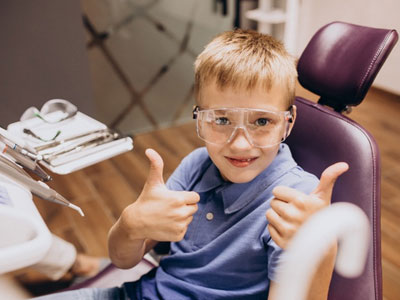 How safe is your child's dental visits during the Covid-19 pandemic
The COVID 19 pandemic has left a lot of us confused. One of the confusions is:" How safe is it to take your children to the dentist during a pandemic?". Dental hygiene is very important for children. But Parents are worried about the safety of their children during dental visits. Keeping the concerns in mind, the majority of dentists are now practicing with the guidelines from CDC and local health officials to ensure a safe environment for your child during his/her visit to the dentist.
What changes to expect while visiting the dentist's office.
Scheduling changes
Emergency appointments can be scheduled through helplines in most of the dentists' offices. Appointments are most likely to be scheduled in a limited manner to ensure that proper sanitization is practiced between each patient's visit.
No overcrowding
The dental practitioners are practicing social distancing to avoid crowds in the waiting areas to minimize the spread of the virus. You can expect a less waiting time before being taken to the treatment area upon your arrival.
Lesser number of bystanders
Only one parent or guardian will accompany the child to the doctor. In cases of children with special needs, it can be treated as an exception
Screening
Dentist's offices are following health screening practices which include asking questions about your recent travel history, any possible symptoms etc.
Protective measures
Your dentist's office will provide you with PPE kits and ensure that you follow the rules accordingly. Wearing masks all the time is mandatory except during the actual treatment. Hand sanitizers and tissues are to be used to maintain personal hygiene for you and your kid. Removal of commonly touched objects like magazines or toys to ensure no contact from one patient to another.
Our kids dentists in EL Paso are making the environment safe as well as kid friendly. By practicing measures like filling online patient forms to maintain social distancing norms, the dentists in El Paso make sure to provide a safe and healthy treatment for your kids.
What to prepare for your kid's next dentist visit
Ensure that your kid is prepared for their visit to the dentist. Practice personal hygiene and social distance norms with them to reduce their anxiety at the clinic.
It is advised to practice proper oral hygiene to minimize the visits to a child dentist. Teaching kids to brush twice a day and floss can come in handy for avoiding unnecessary dentist visits.
Parents should feel comfortable in contacting and seeking advice from the dentist to know and determine the current situation of their kids dental health status.
The procedure and environment might have changed, but that will not stop the dentist from providing your kids the highest quality of treatment and care in the safest possible way.