When should I start using toothpaste with fluoride?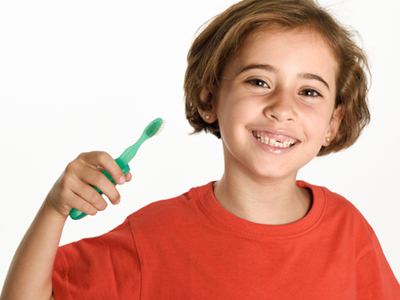 When should I start using toothpaste with fluoride?
Isn't it so exciting when your baby's first tooth pops out of their gums. Then they smile at you with their bright little chomper! As a concerned parent, you should take care of your baby's oral care right from the start and make their dental care a pleasant experience. When your baby gets his/her first tooth, a toothbrush and toothpaste play a key role in setting up a platform for your child's future healthy dental practices.
When should I use a toothbrush?
It is recommended to use an age appropriate toothbrush as soon as the first baby teeth erupt. The bristles of the toothbrush are able to clean the collar of gums around the teeth to remove plaque build-up. A finger cloth is not effective in removing plaque in these areas.
When should I introduce my child to fluoride toothpaste?
The American Academy of Pediatric Dentistry encourages the brushing of teeth with appropriate amounts of fluoride toothpaste (e.g., no more than a smear or rice-sized amount for children less than three years of age; no more than a pea-sized amount for children aged three to six) twice daily for children of all ages.
Once a child has a tooth erupted in the mouth, it is encouraged that the parent use fluoride toothpaste (a very small "pea' sized amount) and an age appropriate toothbrush.