Dental Sealants: Seal Out Tooth Decay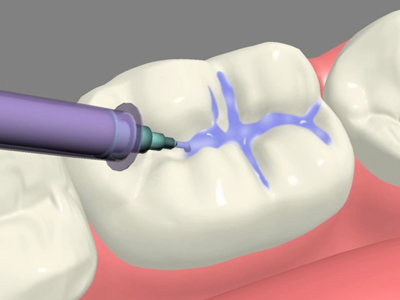 Dental Sealants: Seal Out Tooth Decay
Dental Sealants: The Best Way to Avoid Tooth Decay
Dental sealants are coatings that are usually applied on the chewing surface of the permanent back teeth. The sealant quickly bonds into the grooves of the teeth to form a protective film over the enamel of each tooth to protect them from decay.
The need for sealants
The chewing surfaces of permanent molar and premolar teeth have fissures and grooves which make them vulnerable to tooth decay. The deep fissures which can be narrower than even a single toothbrush bristle can make your cleaning difficult. Dental sealant provides an extra protection for your teeth by providing a smooth surface covering the grooved area.
Benefits of sealants
Age is not a factor: Regardless of age, everyone is prone to tooth decay; therefore dental sealant is the best choice to eliminate this occurrence. However, the ideal time to place a sealant on a tooth is shortly after it erupts in the mouth because the deep fissures of the teeth have not fully formed and are more susceptible to decay. That is why placing sealants on children's permanent teeth is so important.
Cost-effectiveness: The dental sealant can be a cost-effective procedure, as investing less ensures neglected areas won't turn out to be a costly dental treatment in coming years. The sealant can protect your teeth from tooth decay for many years. But they need to be checked at regular dental checkups for chipping and wearing.
A dental sealant is a painless procedure which can be applied quickly.
Tooth decay can result in more severe dental health problems. So it is better to avoid tooth decay by having your molars treated with the sealant.
It is a long-term solution to maintain the good health of your gums and teeth.