Damon Braces El Paso TX
Everyone desires for a healthy bright smile, irrespective of social and economic status. But sometimes, it happens that the improper alignment of teeth spoils the show. Our dental practice is devoted to transform the dull and hesitant smiles to healthy and confident ones. Based in El Paso, Tx, we work towards our goal with best practices and groundbreaking technology.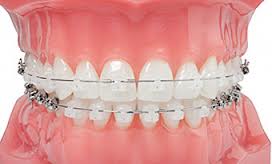 Damon Braces
One of the revolutionary solutions to misaligned teeth is damon braces. Its functionality and ease of use has made it arguably one of the best products in the field of orthodontics. In comparison with traditional braces, damon braces are much different in terms design and functionality. They are quicker, lighter and visually much acceptable compared to traditional braces.
The advantage:
1. Light weight braces: Damon braces are made of technologically advanced brackets and wires which are small in size and light-weight.
2. Less irritation: Since the braces are made of light-weight material and adopt passive slide mechanism, these braces cause less irritation.
3. Easy to keep teeth clean: Damon braces do not use elastics or active clips which are used in metal braces. This reduces the possibility accumulation of food and plaque over tooth, which in turn makes it easy for patients to clean teeth.
4. Invisible brackets and wires: Many patients feel uncomfortable with metal braces because of the unsightly brackets and elastics used. With damon braces on, patients can now smile without being conscious about the thing that is fit over their teeth.
5. No tightening of wires, means lesser number of visits to the dentist: Metal braces commonly require periodic tightening of wires in order to ensure correct teeth alignment. The story is different with damon braces because these revolutionary orthodontic products use tie-less brackets, which means the patient does not have to visit the dentist frequently.
With our dentist to take care of your teeth, you can dream of possessing a wonderful smile. Walk-in to our practice in El Paso, TX, to learn more about damon braces.