Benefits of Dental Braces for Orthodontic Treatment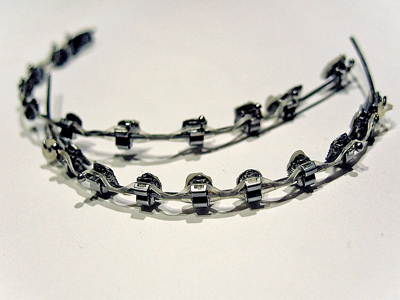 Benefits of Dental Braces
There are many benefits to having well aligned teeth as well as a well aligned bite. braces and aligners are used to accomplish this. braces are fixed to the teeth where aligners are removable appliances.
Benefits of Dental Braces
Gum disease: Well aligned teeth are easier to keep clean by brushing and flossing. This is a very important factor in preventing gum disease.
Jaw problems: Mal-aligned teeth usually lead to teeth not fitting together properly when biting. This can put abnormal pressure on the jaw joint. Over a period of time, the jaw joint can become sore and even become very painful. Aligning the bite through braces can allow a more proper fit and less stress on the jaw joint.
Abnormal tooth wear: When teeth do not fit properly, there can be abnormal wear placed on certain teeth. This can lead to worn teeth, broken teeth and more sensitive teeth. Over a period of time, abnormal wear can also lead to bone loss around teeth which in turn can lead to tooth loss.
Braces enhance the smile: Studies have shown that a well aligned smile enhances self confidence in people
Speech improvement: In certain cases, aligning the teeth can help improve speech and pronunciation of some words.
Well aligned teeth have many more benefits than the obvious cosmetic benefits. Call our office today to let Dr. Bowden talk to you about these benefits and the option available for you.