5 Reasons Why Taking Your Child to the Dentist Is Important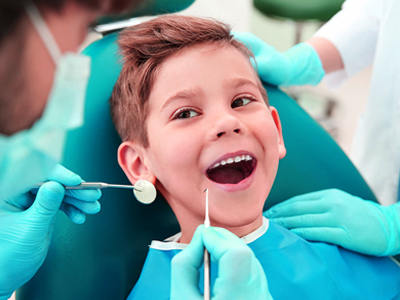 Despite following rigorous dental care, our teeth are susceptible to infections, damages and other dental emergencies as we age. True dental care begins from childhood. While parents worry about their child's physical health, often they tend to overlook the significance of dental care at an early age. It is essential to train your child on routine dental check-ups and nurture the habit. A healthy child means healthy teeth too!
Dr. Jim Bowden, D.D.S. is the best dentist in El Paso TX, renowned for his expertise in pediatric dentistry and orthodontics. If you want the best dental care for your child and you reside anywhere near El Paso TX, you just turned lucky with Dr. Jim Bowden, D.D.S!
5 Reasons Why You Should Bring Your Child to Kid's Dentist in El Paso:
Dental Health Influences Your General Well-Being:
The health of your teeth as well as gums impacts numerous systems in the body including the digestive and respiratory systems. Ensuring oral health for your kids by visiting an expert pediatrician like child dentist in El Paso can ensure overall well-being for your children in the years to come.
Healthy Teeth Boost One's Confidence:
Merely having healthy teeth doesn't impress youngsters. Most of them get conscious of their looks as they grow up and wish for the perfect teeth and pretty smiles. Orthodontics in El Paso performed under the supervision of Dr. Jim Bowden, D.D.S helps to address issues like leveling or aligning the teeth. A well-aligned and flawless row of teeth boost up your child's confidence.
Routine Check-Up Help Avert Dental Diseases:
Regular visits to an experienced and skilled dentist like Dr. Jim Bowden, D.D.S will help in diagnosing early occurrences of diseases like periodontitis, gingivitis and such, before they worsen. A dentist can identify indications like recurring bad breath, swollen gums, or loose teeth and prescribe treatments accordingly.
Regular Check-Ups Help You Avail Preventive and Curative Services:

You should know when your child is ready to brush on his own:
Dental plaques can cause bleeding in the gums. An expert dentist Dr. Jim Bowden, D.D.S will help you keep a tab on your child's dental health. Gum diseases and decay resulting from dental plaques, bleeding, and related issues can be treated on time with the scaling and root planning in El Paso. Only an experienced dentist can provide you with proper dental tips beyond brushing and flossing and guide you through preventive care for your child's dental health.
Help You Save Your Money and Time on Dental Issues:
Having an expert dentist to consult with regarding routine issues or rush to in hours of emergency is a great advantage. An ace pediatric dentist in El Paso like Dr. Jim Bowden, D.D.S to consult with, seek guidance and get timely check-ups for your kids, can help you maintain their dental health, save money and your time in the long run.
Conclusion:
If you are searching for a good pediatrician for your child, consider Dr. Jim Bowden, D.D.S who provides the best dental service in El Paso when it comes to pediatric dentistry. Dr. Jim Bowden, D.D.S is also renowned for Orthodontics in El Paso. For more information call us at (915) 585-6373 and schedule an appointment today.